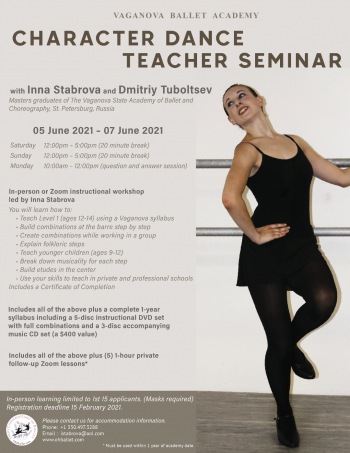 Character Dance Teacher Seminar
Inna Stabrova and Dmitriy Tuboltsev

With Inna Stabrova and Dmitriy Tuboltsev Masters graduates of The Vaganova State Academy of Ballet and Choreography, St. Petersburg, Russia. 05 June 2021 - 07 June 2021 Saturday 12:00pm - 5:00pm (20 minute break) Sunday 12:00pm - 5:00pm (20 minute break) Monday 10:00am - 12:00pm (question and answer session) Option 1 - In-person or Zoom instruction workshop led by Inna Stabrova - $650.00 You will learn how to: Teach Level 1 (ages 12 - 14) using Vaganova syllabus Build combinations at the barre step by step Create combinations while working in a group Explain folkloric steps Teach younger children (ages 9 - 12) Break down musicality for each step Build etudes in the center Use your skills to teach in private and professional schools Includes a Certificate of Completion Option 2 - Includes all of the above plus a complete 1-year syllabus including a 5-disc instructional DVD set with the full combinations and a 3-disc accompanying music CD set (a $400 value) - $950.00 Option 3 - Includes all of the above plus (5) 1-hour private follow-up Zoom lessons* - $1150.00 Option 4 - Studio Package: Includes up to (3) virtual or in-person registrations, (1) complete 1-year syllabus with DVD and CD set, and (5) instructional one-hour online sessions to be used by any seminar participant from your studio as needed. Each registrant will receive a personalized Certificate of Completion. - $1837.50 Cancellations made 7 days or more in advance of the event date will receive a 100% refund. Cancellations within 3 - 6 days of the event date will incur a 20% fee, and within 48 hours of the event date will incur a 30% fee. If cancellation is made the day of the event, you will receive a credit to reschedule at a later date. In-person learning limited to 1st 15 applicants. (Masks required) Registration deadline 28 February 2021. * Must be used within 1 year of academy date.
Review This Product
Did you purchase this product? Simply fill out the form below with required fields [*], verification code and send. Your review will be posted when approved by site administrator. Review characters posted will be limited to 600.